This is also from my old blog.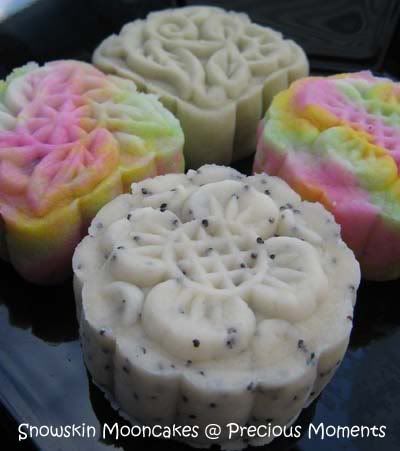 Rainbow Ice Cream Soda Snowskin Mooncake
What you need:

200g koh fun
200g icing sugar
120g shortening
1 tsp banana essence
320ml ice cream soda

For the fillings:

1kg lotus paste
35g roasted melon seeds

Method

Combine filling ingredients together.

Scale to 85g and shape into balls (according to your mould). Set aside.

Divide dough into 4 portions for 4 colours (pink, white, green and yellow)

Knead in colours.

Roll each coloured dough between two sheets of plastic thinnly.

Stack them together and trim. Roll the front and end of the sheet thinner.

Roll up like a swiss roll and cut into 12 portion.

Flatten and fill in the fillings.

Seal and mold.

Note: Based on 135g mould. 40% skin and 60% fillings.

**************

Orange Poppyseed Pingpi Mooncakes

What you need:

100g koh fun
100g icing sugar
40g shortening
1/2 tsp orange essence
2 tbsp evaporated milk
10g poppyseed
50ml orange juice
100ml iced water

For fillings

500g red bean paste
20g roasted melon seeds

Method

Combine filling together and scale to 40g. Shaped and set aside.

Sieve icing sugar and koh fun into a big bowl.

Add in shortening, orange essence, milk and poppyseed and knead well.
Drizzle in orange juice and water and further knead into a soft dough.
Scale to 30g each
Flatten and place fillings. Wrap and seal.
Mould accordingly
Cheers